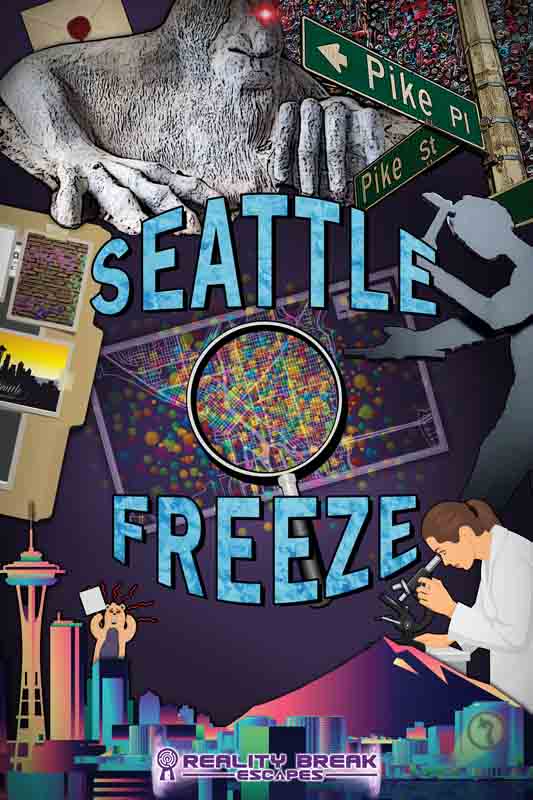 Welcome to Seattle, home of rain and more rain! What would normally be a peaceful city has awoken to quite a problem today.
Your team of paranormal investigators has been dispatched to Seattle on short notice. All you've been told is that Seattle is facing an imminent threat, and only your team can help!
You must follow the clues scattered around the city to unravel this mystery and find a way to save the city and you must hurry before chaos ensues...
Can you save the city in time??
Shay is an amazing game master host, and helped drop clues when we were stuck. Her energy kept our spirts up and excited to move through the challenging rooms. Thanks,... read more Shay!

Jonathan DeLeon


April 3, 2022

We had our daughter's b'day party…It was soooo much fun all the kids even adults had a great time. The puzzles were super cool. Our group was divided into all... read more 3 rooms and each room had a great theme to it and every group enjoyed a lot. Apart from the games the staff is super nice and co-operative and always around to help! Really super happy to have our event at Reality Escape 100% recommend this place.

Bhawana Relia


June 19, 2022

We had an awesome time in the Seattle Rocks escape room, and will have to come back again to try the others soon. What a great way to celebrate a... read more Birthday and become Rock Stars at the same time! The facilities had lots of great features and challenges, and the staff was nothing but helpful

Carl King


June 14, 2022

Easy peazy speakeasy

Yashom B


April 10, 2022

Rock Seattle was a pretty fun room. There was a small issue with a safe not opening when it should but our game master quickly came in to assist so... read more we could continue our run.

Mattison Hain


June 15, 2022

I've been to a couple other escape rooms and this one was the best one yet!! The "Seattle Rocks" had plenty of puzzles for our group of 7 people and... read more the game master was super helpful when we needed.

Ali A


April 3, 2022

Was lots of fun and actually engaging to play!

Jazz


June 14, 2022

Although we didn't "escape" in time, we had a fun time. Timmy was very attentive and he was great at giving us clues at the exact moment we needed them.... read more We will be back!

Kristina Mercado-Kaeding


April 10, 2022

so much fun!

Kathryn Gillespie


June 14, 2022