Join us for Bellevue Recess with The Bellevue Chamber
NCAA Championship Finals Watch Party
At our North Bellevue RBE Team Events location.
Get your ticket today...Early bird pricing ends on Monday 3/27!!!
What better way to spend an hour, use your brain and work with your friends and family to solve your way out?
Reality Break Escapes offers something different, local and engaging. Our unique themes take you back in time to diffuse a bomb left by the mob, send you to the future to retrieve a data probe from a wormhole or take place right now in the Seattle music scene to save your soul...You will race against the clock, piece together the clues, work as a team, pool your knowledge and findings to escape from reality.
Ready to book your next Escape Room Adventure?


Over the last four years, many of you have enjoyed playing escape rooms and scavenger hunts with us at our location in Downtown Bellevue. We have had so much fun with you that we wanted to offer you something more!
Whether you have a team of 6 or 250+, we have an
experience that fits you team. If your event is In-Person, Portable, Virtual or a Large Group, our Event Specialists are ready to help.
Contact us today to book your team's event!
Check out all of the teams who have escaped with us.


Let's hear what our customers have to say:
Did the lucky duck speakeasy, challenging but really fun afternoon activity, especially on a rainy day. We did this in a group of 2 people and were able to name... read more the boss and save the city! The videos they show you before you start and really helpful and the employee who helped us, Ryan who work there was very friendly. Will come back.

Angelica —


January 15, 2023

The escape room at Reality Breaks in Bellevue was very fun. We did the space themed one. All of the puzzles were interesting and associated with the theme. Most were... read more math based, nothing complicated, but be prepared. It was good fun for a group of five friends.

Cody Mortensen


January 15, 2023

This was a lot of fun hanging out virtually with friends. Puzzles were challenging, but the game master was great with suggestions keeping it from being frustrating. I... read more would definitely do it again!

Melinda Barker


November 2, 2022

We escaped!!!! This is my 8th escape from several companies and let me just say… WOAH!!!! 10/10!!!!!!!!!!!!! There are a few things that set Reality Break apart from... read more the other adventures I have done but most of all it was our game master, Erika who made our experience that much more fun! WHEN I go back, I would be thrilled to have Erika as our GM again! A small but major thing that set RBEs apart were the phone chargers in the locker (seriously why doesn't everyone have this) Thank you to the RBG team for making a great experience, but most of all Erika who made the best jokes, gave the funniest hints, and made a personal birthday sign for our team member!! Lots of love!

MaKenna Thompson


November 2, 2022

Staff are very friendly. Erika was a great GM! They really made the experience a wonderful time. Will definitely be back!

Anna Corry


November 2, 2022

We had a great time. The escape room champions were amazing and the execution was flawless!

Samyukta S


November 2, 2022

Had a fun time with friends today. Many of the puzzles were unique and thematic. Great spot to check out if you're in the area and you like escape rooms.... read more We've done all 3 between my friends and I'll be back for more when they have more or different rooms in the Future

Hayk Saakian


October 6, 2022

Went here 2 times and completed all the escape rooms! Our game master was so nice and understanding and gave hints when needed! And for the price I think it's... read more so worth it to spend time with friends or family!

Chantel Yat Suen Lam


September 22, 2022

We loved our experience here! Some padlocks but also a lot of creative puzzles. We did two rooms here and they celebrated our one friend's birthday in the room with... read more a little call out which was cool.

Nicole Solano


September 13, 2022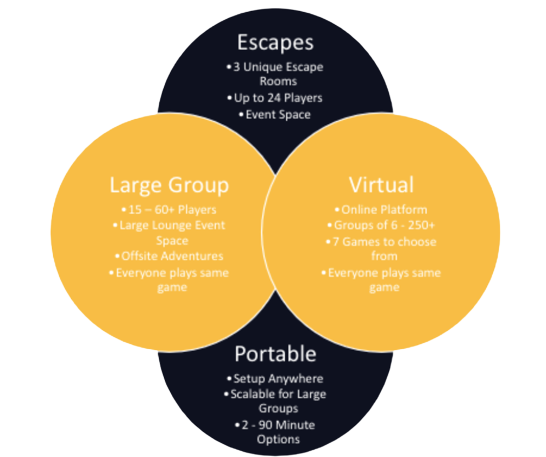 You'll hear from one of our dedicated event specialists with a custom tailored plan for your event.
An escape room is a timed series of puzzles, clues, games and hints that will help your team achieve the goal of the themed room. Some themes will take you back in time, some will send you to the future to save your ship, some may even be right now.  You will race against the clock, piece together the clues, work as a team, pool your knowledge and findings to escape from reality.
You have 60 minutes.  You have your team assembled. You have your wits and there are clues & puzzles waiting.  You are ready to play!
Stay up to date on Reality Break Escapes news, updates and general musings.
Hello again my adventurous friends! Have you figured out how to make the best of...
3 unique in person Bellevue escape rooms and many more available virtually!
Call, email, submit a form - we love hearing from you!
Let our dedicated event specialists plan the perfect team building event for you!