Ready To Book Your Next Virtual Party?
Contact us today for more details!
Who said the best party in town can't be hosted virtually? Whether you're trying to throw a party with friends from all across the country or looking to host your corporate holiday shindig, virtual escape rooms are a fun and safe way to ensure everyone will have a good time! 
Virtual escape rooms are the perfect party idea for when you can't be together in person, but you and your guests are still ready to throw a memorable celebration. With a wide range of escape room options, we offer parties the opportunity to test their detective skills in solving… 
In our book, you never need an excuse to throw a party, but some of our favorite virtual parties center around:
Birthdays

Christmas/holiday parties

Anniversaries 

School/class reunions/graduations

Family reunions

Bachelorette/Bachelor
The best part, with it being a virtual party, you can create the biggest guest list imaginable! Our virtual escape rooms can host parties as small as six individuals, all the way up to 250! The versatility of virtual escape rooms makes it a good option for both small family get-togethers and large business bashes. Here are a few benefits to choosing to go virtual:
Anyone Can Be There! 
It's always a struggle to get everyone in the same room on the same date. Conflicting schedules, transportation issues, geographic proximity, and the list goes on. With a virtual party, flexibility is the name of the game. Now, anyone from anywhere with an internet connection can make the party! This ensures no family member or friend misses out on a good time, and every work-from-home employee can make the party, no matter their location.  
Keep Everyone Healthy 
COVID has tried to cancel parties, and while large in-person parties are still a no-go, virtual parties have made sure the festivities didn't have to stop! Deciding to have a virtual party helps keep everyone healthy and safe as we continue to practice safe social distancing protocols. 
New Engagement Opportunities 
Virtual parties add a new layer to social gatherings. When you and your guests sign-up for a virtual escape room experience, you're going to have a party unlike ever before. These virtual events provide an enticing and enjoyable experience that isn't achievable through in-person activities. Sometimes a party is just better through the screen.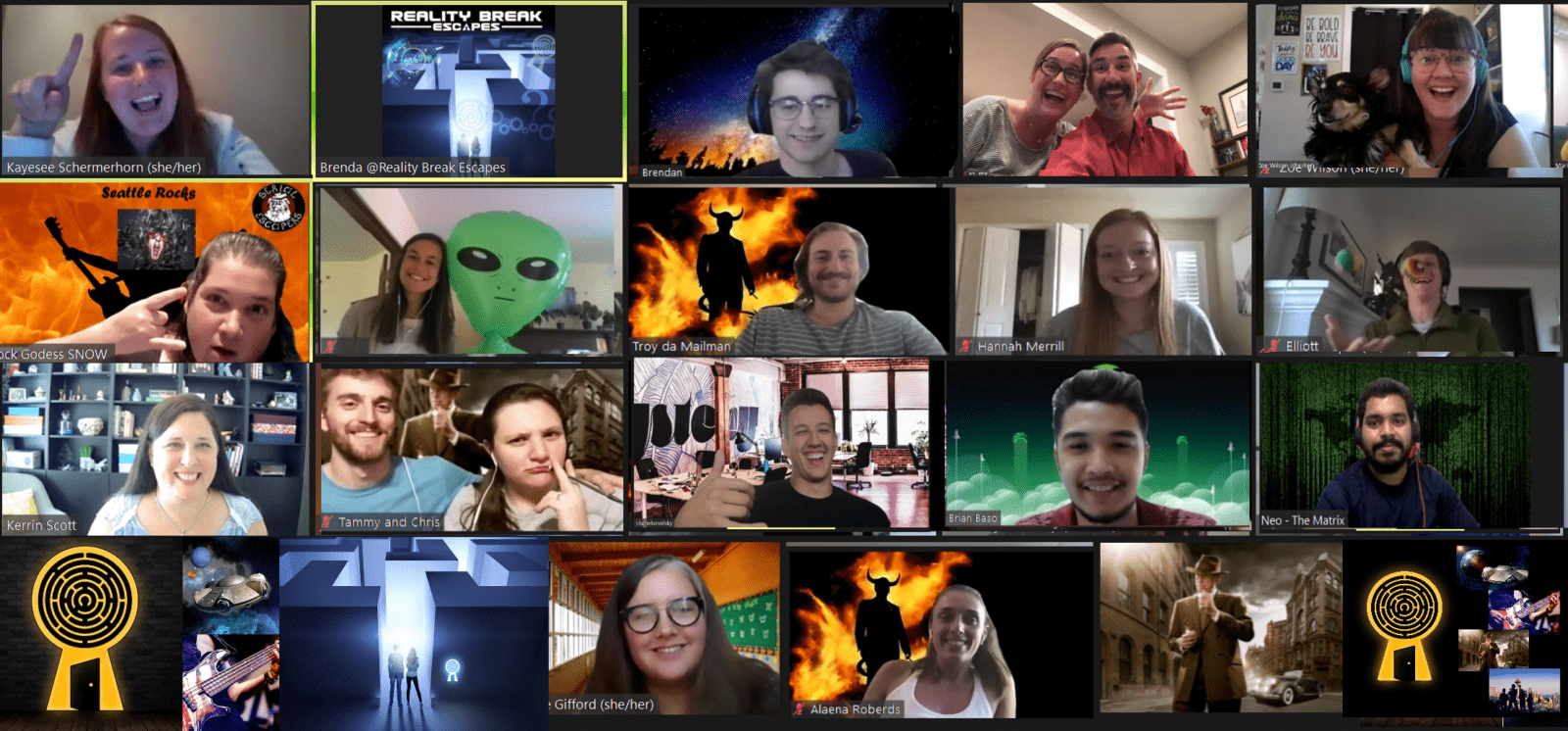 What Type of Party Are You Going to Host? 
So what type of party are you thinking of making virtual? We promise it's a decision you won't regret. Virtual escape rooms are fun for any age. We make sure the online interface and story narrative is easy to follow so the overall experience is a blast for everyone involved -- irritating technology problems can derail a good time, so we've worked to make sure party attendees can focus on only one thing… escaping! 
Birthdays 
We all love a birthday party. Virtual escape rooms fit perfectly with this reason for celebration. From middle school kids to middle-aged parents, locking them in a (virtual) room together with their closest friends and family as they race against the clock to escape, is a great way to kick off another year of life. If you succeed in your escape, you'll be singing happy birthday to a new tune.
Holiday Parties 
Why do we love holidays so much? One reason is because of the PAARRRTIES! Whatever holiday is being celebrated, whether that is Christmas, Thanksgiving, Hanukkah, Chinese New Year, Fourth of July, and so on, any holiday fits a virtual escape room event! Just imagine enjoying all your favorite holiday traditions and treats -- with the cherry on top being in the middle of an escape room challenge with your loved ones. 
Anniversaries 
What showcases your love more than a virtual escape room party? We can't think of anything else. Host your anniversary party with your partner and invite close friends and family to help celebrate your special years together. Show off firsthand why you and your spouse are such great teammates and lead your party to eventual escape! It's the anniversary party that you'll want to keep repeating every year. 
Class Reunions 
Has it been a minute since you've seen your high school or college peers? Tired of the typical banquet hall or gymnasium setting where everyone is awkwardly standing next to a punch bowl or dinner table? Yeah, been there done that. Make your next class reunion one that people want to actually show up for! A virtual party gives everyone a chance to see and speak to everyone in attendance. Most importantly, it gives you something engaging to do! Work together on solving clues and riddles to escape the room before times up -- and see if that high school valedictorian still is the sharpest tool in the shed. 
Family Reunions
Hanging out with extended family can be a little stale. Maybe you barely know your third cousins. How do you talk to someone you only see once every couple of years? Take the awkward small talk out of the equation and break the ice with virtual escape rooms! Get everyone one involved and working towards the same goal. You'll never believe how much fun it can be to be surrounded by all nine of your aunts and uncles! Okay… take that with a grain of salt, but we promise the escape room experience will leave you coming back for more.
Let's Party… Virtually! 
Are you ready to host a party that everyone can attend? Well, now you know how to make it happen! Here at Reality Break Escapes, we are happy to customize your experience to accommodate your party's needs. Contact us today to set up your virtual escape room party -- and let's celebrate good times, come on! 
Book Your Next Birthday Party Experience
Ready to book your party? Need more info or not seeing exactly what you were envisioning? Want to add time on to make it an all-day event? We can customize your experience to accommodate your needs.