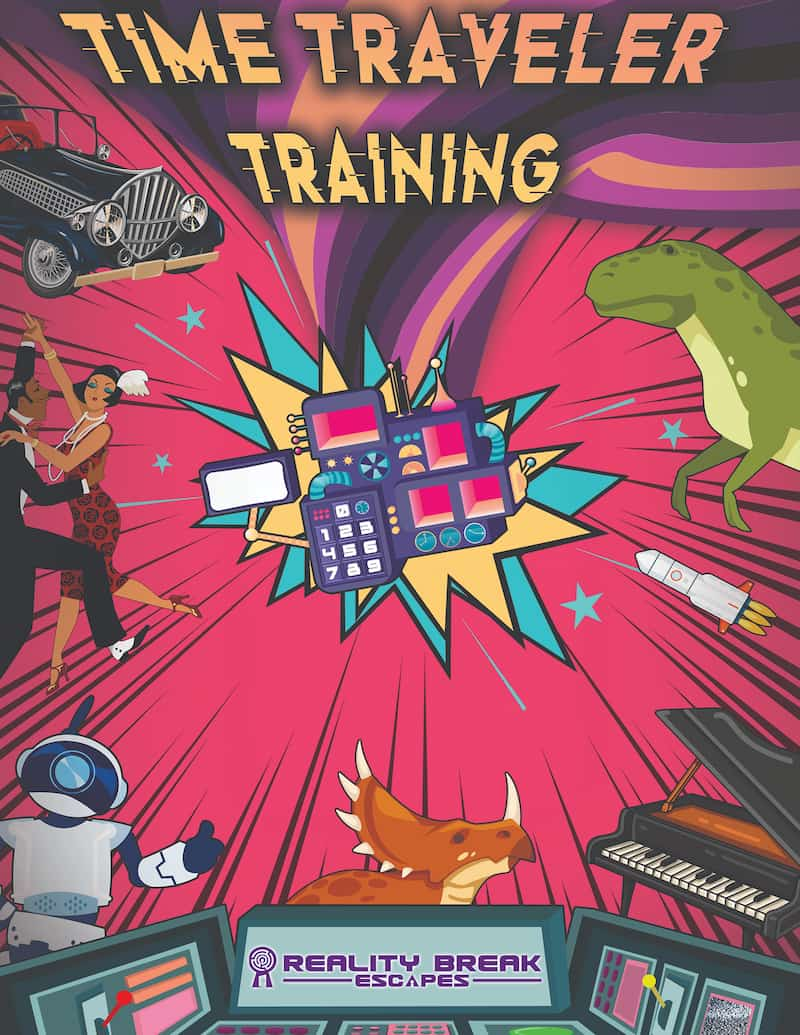 "Future" Time Travelers!
You and your team will be undergoing your final exam to get your Time Travelers License.
All of you will be going into different time eras to recover special objects!
However, the real test is not to pick up the objects. That is easy. But… it is to figure out what year you are in!
The Time Machine will need to be re-calibrated to move into the next time era!
Good Luck!
This was a lot of fun hanging out virtually with friends. Puzzles were challenging, but the game master was great with suggestions keeping it from being frustrating. I... read more would definitely do it again!

Melinda Barker


November 2, 2022

We escaped!!!! This is my 8th escape from several companies and let me just say… WOAH!!!! 10/10!!!!!!!!!!!!! There are a few things that set Reality Break apart from... read more the other adventures I have done but most of all it was our game master, Erika who made our experience that much more fun! WHEN I go back, I would be thrilled to have Erika as our GM again! A small but major thing that set RBEs apart were the phone chargers in the locker (seriously why doesn't everyone have this) Thank you to the RBG team for making a great experience, but most of all Erika who made the best jokes, gave the funniest hints, and made a personal birthday sign for our team member!! Lots of love!

MaKenna Thompson


November 2, 2022

Staff are very friendly. Erika was a great GM! They really made the experience a wonderful time. Will definitely be back!

Anna Corry


November 2, 2022

We had a great time. The escape room champions were amazing and the execution was flawless!

Samyukta S


November 2, 2022

Had a fun time with friends today. Many of the puzzles were unique and thematic. Great spot to check out if you're in the area and you like escape rooms.... read more We've done all 3 between my friends and I'll be back for more when they have more or different rooms in the Future

Hayk Saakian


October 6, 2022

Went here 2 times and completed all the escape rooms! Our game master was so nice and understanding and gave hints when needed! And for the price I think it's... read more so worth it to spend time with friends or family!

Chantel Yat Suen Lam


September 22, 2022

We loved our experience here! Some padlocks but also a lot of creative puzzles. We did two rooms here and they celebrated our one friend's birthday in the room with... read more a little call out which was cool.

Nicole Solano


September 13, 2022

Parking sucks but this place was even better than the 1st one we tried. Apparently we're coming back for more experiences. Go escape team!! You guys are great.

Bernadette Alexander


September 13, 2022

Fun time solving clues with team mates

rene vanderzee


September 13, 2022