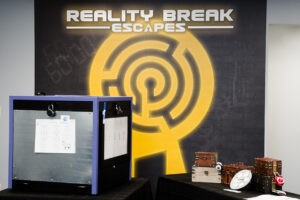 Your journey begins in Egypt thousands of years ago and your team must work to solve all the mysteries of the Seder Plate.
Its secrets will lead each team to a unique Passover adventure.
Completing all adventures will bring the teams together to a secret chamber. In the chamber you'll find a final puzzle that everyone must work together to complete the Exodus before time runs out.
Have some fun and learn about Passover!
Book online here Book Passover Escape Experience for 4/14 and 4/21 or call for dates/times not listed.
This Passover Escape Experience is a fun and interactive escape game where up to 4 groups work individually and everyone plays the final puzzles together. A booking of up to 4 players is one group and each game can play up to 16- 20 players.
Please call 425-577-6800 or email us for groups larger than 4 players, for private bookings or for bookings on dates not listed.
Contact us at info@RealityBreakEscapes.com for advance or group bookings.