Looking for an interactive, at-home experience for your party? Check out our new, Play-At-Home puzzle hunts and bring the Escape Room experience to your living room!
Seattle's Best Portable Escapes & Custom Design
Not able to make it to our Bellevue location, but still want to enjoy the fun of an exciting escape room experience in the Seattle area? Reality Break Escapes' mobile experiences are the answer! Let us come to you – at your corporate headquarters, offsite meeting location, or party venue. Are you 8 years old or 80?  Are there 2 of you or 200? Are you a novice puzzler or an expert? Reality Break Escapes has the perfect mobile escape experience for you. 
Our mobile escape experiences are the perfect answer for corporate events, team building exercises, birthday parties and more. You can choose from one of our multiple mobile escape room storylines or we can customize an escape theme for your event.  Either way, you're sure to have a great time!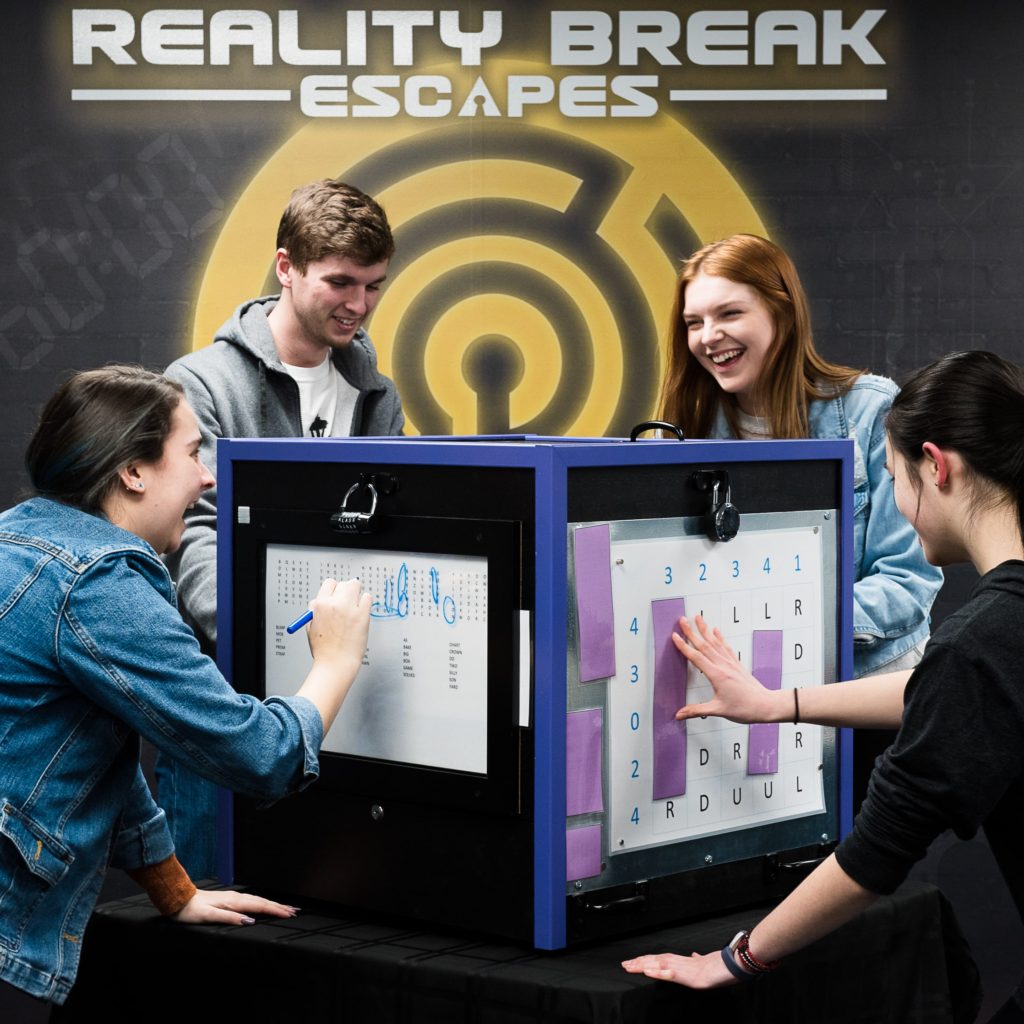 One of our current customized mobile escape experiences includes a Jerusalem Escape. Participants travel through the ancient city, revealing clues to unlock King David's Tomb. And we're hard at work developing more mobile escape rooms, including a Seattle Freeze themed one.  
We also have our Big Purple Mobile Box.  Four players approach the puzzle box and work to each unlock one of the four different sides to solve the mystery inside together. 
Choose the Mobile Package that is Best for You!
All Packages Include:
2 Game Masters onsite
Includes setup & clean-up
Options Include:
Big Purple Box
Mini Escape Experiences
Walk-Up Puzzles
30/60 min Mobile Escape Game 
Mobile escape game for up to 200 players, several options including the big mobile box & one group box themed mobile puzzle (e.g. Seattle, Pirate, Tiki)
Trip Charge for all mobile puzzles
$60 trip charge within 20 miles downtown Bellevue for all mobile puzzles
Additional charge for travel outside of 20 miles radius
Bring the Escape Room to Your Front Door!
Do you live in the Seattle area? Spice up your next party or get together with a customized mobile escape room or puzzle box! Contact us about our room storylines, or about building your customized theme! We are here to bring the best experience to your doorstep.
Book Your Mobile Escape Experience!
Drop us a line today for a free quote!