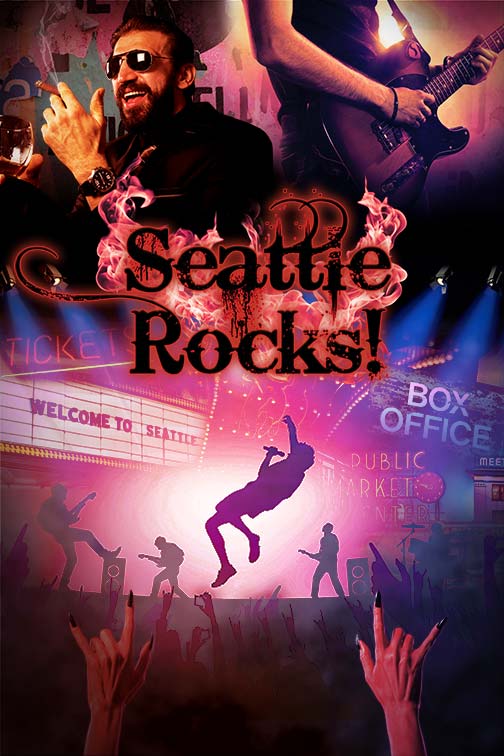 Your band once had it all...fame, fortune, and a song at the top of the charts! But things have taken a turn for the worse, and you find yourselves playing at smaller and smaller venues as you struggle to find inspiration for your long-awaited follow-up album.
After your gig last night, your band was approached by a sinister fellow all in red, who offered you a deal you couldn't resist - a new number one hit in exchange for your immortal souls. But in the light of a new day, you realize what a horrible mistake you've made...but perhaps there's a way to break the deal!
The Devil has sent the contract for your #1 hit to Seattle's top record producer, Griff Rockman...if you could just get inside his office, find the contract, and void it before Griff gets back from a meeting in one hour, your souls will be saved!
Did the lucky duck speakeasy, challenging but really fun afternoon activity, especially on a rainy day. We did this in a group of 2 people and were able to name... read more the boss and save the city! The videos they show you before you start and really helpful and the employee who helped us, Ryan who work there was very friendly. Will come back.

Angelica —


January 15, 2023

The escape room at Reality Breaks in Bellevue was very fun. We did the space themed one. All of the puzzles were interesting and associated with the theme. Most were... read more math based, nothing complicated, but be prepared. It was good fun for a group of five friends.

Cody Mortensen


January 15, 2023

This was a lot of fun hanging out virtually with friends. Puzzles were challenging, but the game master was great with suggestions keeping it from being frustrating. I... read more would definitely do it again!

Melinda Barker


November 2, 2022

We escaped!!!! This is my 8th escape from several companies and let me just say… WOAH!!!! 10/10!!!!!!!!!!!!! There are a few things that set Reality Break apart from... read more the other adventures I have done but most of all it was our game master, Erika who made our experience that much more fun! WHEN I go back, I would be thrilled to have Erika as our GM again! A small but major thing that set RBEs apart were the phone chargers in the locker (seriously why doesn't everyone have this) Thank you to the RBG team for making a great experience, but most of all Erika who made the best jokes, gave the funniest hints, and made a personal birthday sign for our team member!! Lots of love!

MaKenna Thompson


November 2, 2022

Staff are very friendly. Erika was a great GM! They really made the experience a wonderful time. Will definitely be back!

Anna Corry


November 2, 2022

We had a great time. The escape room champions were amazing and the execution was flawless!

Samyukta S


November 2, 2022

Had a fun time with friends today. Many of the puzzles were unique and thematic. Great spot to check out if you're in the area and you like escape rooms.... read more We've done all 3 between my friends and I'll be back for more when they have more or different rooms in the Future

Hayk Saakian


October 6, 2022

Went here 2 times and completed all the escape rooms! Our game master was so nice and understanding and gave hints when needed! And for the price I think it's... read more so worth it to spend time with friends or family!

Chantel Yat Suen Lam


September 22, 2022

We loved our experience here! Some padlocks but also a lot of creative puzzles. We did two rooms here and they celebrated our one friend's birthday in the room with... read more a little call out which was cool.

Nicole Solano


September 13, 2022
Seattle Escape Room FAQ's
What Time Should We Arrive For Our Scheduled Game?
All players in your group should arrive onsite 15 minutes prior to your game time please. Arriving early will give you time to complete the waiver, meet your team and ours, hear a "brief" briefing and start your escape at the scheduled time.
Will We Actually Be Locked Inside The Room?
No, our escape room doors are not actually locked. In order for everyone to have the best escape room experience, you are free to leave at any time.
Seattle Rocks! escape room is 60 minutes in length. You may want to allow an additional 15 minutes in your schedule after the game to debrief and take that fun post-game photo op!
Is The Escape Room Scary?
No, our escape rooms are designed to be fun and engaging. We want all of our players to be challenged, but also to feel safe and enjoy the experience throughout. 
Are You Located In Seattle?
Reality Break Escapes headquarters is in downtown Bellevue, but we serve the entire Seattle metro area, with both escape rooms and corporate team building.
Are Your Escape Rooms Private?
Our games are public by default, but you will have the option of booking a private game at checkout. You will be required to pay for at least a 4 player game to ensure that the room is fully private.